There are formal parents' evenings held during the year and your child's teacher can be contacted at other times by making an appointment through the School office or via our learning platforms (Tapestry and seesaw). It is important that all parents and carers attend Parents' Evenings. Educational Research clearly shows that a close relationship between home and school leads to higher attainment in the pupil. In addition, your attendance sends a clear message to your child that you value their education. Appointments are per child so where there are separated families we ask that both parents attend if they can.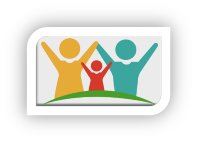 The Autumn term parents' evening will focus on settling in to class, well-being, current attitudes to work and any other mutually interesting areas of discussion with you and your child.
The Spring parents' evening will focus on academic progress and will be accompanied with a half yearly report update which will report current academic standards and detail progress in the core subjects of reading, writing and maths. In addition there will be a R.A.G. (a traffic light red, amber and green) rating for various aspects of school life such as those displayed here. If your child is not receiving a green rating for any aspect of their school life please support them to put this right by the time the reports are re-issued at the end of the year.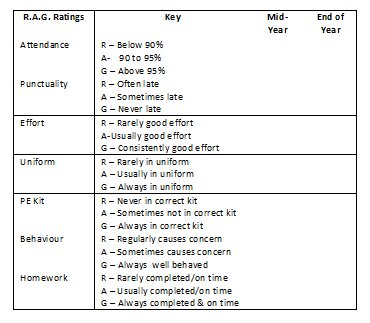 At the end of each academic year in July you will then be sent a 'School Report' detailing your child's attainment and progress in each subject. The report builds on the mid-year update with further attainment levels, comments on work in the core subjects and assessment levels for all other curriculum areas. The summer term report is a recognised document and a copy of it is placed on your child's records which are then forwarded to their next school.
Children in Early Years will receive a report based on 'Tapestry' assessments based on Early Learning Goals.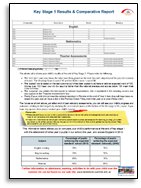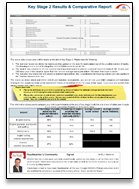 For children in Year 2 and Year 6 who are at the end of their Key Stage and have nationally reported results at the end of the year then their outcomes in the summer will be reported on an additional page as follows for Maths (Y2 & Y6) & Reading (Y2 & Y 6) and SPAG (Spelling, Punctuation & Grammar – Y6 only) each Y2 & Y6 child will get:
A raw test score (how many marks they got on the test)
A scaled score (where your child's score is compared to all taking the test nationally where a score of 100 is the average mark)
Notification of whether they are at the nationally expected standard or not.
For Writing they will be assessed as:
Working towards expected standard or
Working at expected standard or
Working at a greater depth within the expected standard.
In addition to the above the school will host a 'Curriculum Evening' at transition times to explain new routines, meet new staff and detail expectations for the new class your child is entering.