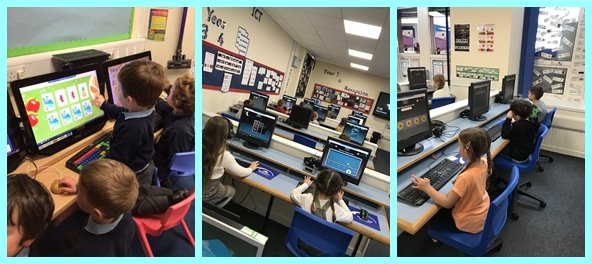 Intent
As programmers, we aim for our children to leave Beckstone Primary school with:
An understanding and ability to apply the fundamental principles and concepts of computer science, including abstraction, logic, algorithms and data representation
The ability to analyse problems in computational terms, and have repeated practical experience of writing computer programs in order to solve such problems.
A sound base of computing knowledge and vocabulary.
The ability to evaluate and apply information technology, including new or unfamiliar technologies.
A passion for and commitment to the subject and a real sense of curiosity to find out about how technology can enhance and improve the world and the life chances of the people who live there.
The ability to express, in digital media, well-balanced opinions, rooted in very good knowledge and understanding about current and contemporary issues in society and the environment and being able to distinguish fact from opinion and 'fake news' from 'real news'
Excellent learning behaviours that ensure they are responsible, competent, confident and creative users of information and communication technology.
An excellent knowledge and understanding of how to keep themselves safe online, how to deal with cyber bullying and to understand their actions 'leave a trail' and they need to operate online as they would in normal day to day activities.
Implementation
Foundation Stage
By the end of the Foundation Stage children will be confident computing users who are able to demonstrate a knowledge and understanding of:
Operating simple equipment, e.g. turn on a CD player and use a remote control.
Technological toys with knobs or pulleys, or real objects such as cameras or mobile phones.
How to make toys work by pressing parts or lifting flaps to achieve effects such as sound, movements or new images.
Information that can be retrieved from computers.
How to use ICT hardware to interact with age-appropriate computer software.
How a range of technology is used in places such as homes and schools.
Technology that is used for particular purposes.
How to log on to the system
How to manipulate the mouse and keyboard effectively.
The basic uses and application of computing technology to enhance and enrich learning.
Basic word processing skills and how to manipulate fonts and images.
Basic programming such as manipulating Bee Bots
Key Stage 1
By the end of Key Stage 1 children will be able to demonstrate a knowledge and understanding of:
What algorithms are; how they are implemented as programs on digital devices; and that programs execute by following precise and unambiguous instructions.
Creating and debugging simple programs.
Recognise common uses of information technology beyond school.
Logical reasoning to predict the behaviour of simple programs.
Using technology purposefully to create, organise, store, manipulate and retrieve digital content.
Using technology safely and respectfully, keeping personal information private; identify where to go for help and support when they have concerns about content or contact on the internet or other online technologies.
Lower Key Stage 2
By the end of Lower Key Stage 2 children will be able to demonstrate a knowledge and understanding of:
Using technology safely, respectfully and responsibly; recognise acceptable/unacceptable behaviour; identify a range of ways to report concerns about content and contact.
Using search technologies effectively, appreciate how results are selected and ranked, and be discerning in evaluating digital content.
Computer networks including the internet; how they can provide multiple services, such as the world wide web; and the opportunities they offer for communication and collaboration.
Upper Key Stage 2
By the end of Lower Key Stage 2 children will be able to demonstrate a knowledge and understanding of:
Using logical reasoning to explain how some simple algorithms work and to detect and correct errors in algorithms and programs.
Selecting, using and combining a variety of software (including internet services) on a range of digital devices to design and create a range of programs, systems and content that accomplish given goals, including collecting, analysing, evaluating and presenting data and information.
Designing, writing and debugging programs that accomplish specific goals, including controlling or simulating physical systems; solve problems by decomposing them into smaller parts.
The micro components of a computer and how a PC works and can be programmed to manipulate attached devices (Raspberry Pi projects).
Teaching & Learning
At Beckstone Primary School we make Computing an engaging and challenging learning experience. As a school we believe it is important to keep up to date with the technological changes that go on in the world. Our aim is to give children the skills that will allow them to thrive in the modern world. Our topic led curriculum allows children to engage with the National Curriculum objectives in a range of ways using a variety of tools including iPads, laptops and desktop computers. Children's learning is carefully planned, ensuring that skills are taught at an appropriate age and are being built on each term and year. Children in the Early Years use BeeBots and other physical devices to create and execute simple algorithms. This is built on in Key Stage 1 where children learn to write and debug more complex algorithms using physical devices as well as coding software. In Key Stage 2 children develop this further by using a range of software to write their own computer programmes.
We recognise that all classes have children with widely differing ICT abilities. This is especially true when some children have access to ICT equipment at home, while others do not. We provide suitable learning opportunities for all children by matching the challenge of the task to the ability and experience of the child. We achieve this in a variety of ways, by:
Setting common tasks which are open-ended and can have a variety of responses.
Setting tasks of increasing difficulty (not all children complete all tasks).
Grouping children by ability in the room and setting different tasks to each ability group.
Providing resources of different complexity depending on the ability of the child.
Online Safety
Computing and the use of technologies at Beckstone Primary School is underpinned by e-safety being central to the curriculum. While showing children the benefits of using new technologies we are also rigorous in teaching them about how to use technology safely and responsibly. E-safety workshops are held every year, including parent workshops. When starting a new topic, teachers discuss with the children how they can keep themselves safe when using technology. E-Safety is also taught as part of our PSHE Curriculum, for example all classes receive Kidsafe training on staying safe which includes rules for, and ways of physically and emotionally safe – including safety on-line, responsible use of ICT, the difference between secrets and surprises, and understanding not to keep adults' secrets only surprises. These important messages are also given prominence in a dedicated 'Online Safety Week' in the Spring term Our 'Online Safety Policy' outlines further information about our School's approach to Online Safety.
Curriculum
Our school uses the National Curriculum in England 2014 Framework for Computing as the basis for its curriculum planning. Medium Term Plans are developed with a range of technologies in mind and we aim to use computing to support and link to our Cornerstones curriculum where appropriate. The approach of the school is to pro-actively identify and incorporate Computing into these topic areas. It is important to give children the opportunity to use a variety of hardware and programmes/apps. While there are opportunities for children of all abilities to develop their skills and knowledge in each teaching unit, the planned progression built into the computing curriculum means that the children are increasingly challenged as they move through the school. Long-term plans (available in the Curriculum zone of our web site) identify when the different areas and skills of the National Curriculum are taught across the year group phases and they follow a two-year cycle. Computing is taught by a dedicated ICT tutor who takes responsibility for planning, resourcing and delivering the computing curriculum as well as individual class teachers who incorporate the use of computing technologies to enhance and enrich learning within their planned topics.
Special Educational Needs
We teach computing to all children, whatever their ability, in accordance with the school curriculum policy of providing a broad and balanced education to all children. Teachers provide learning opportunities matched to the needs of children with learning difficulties. Different technologies are used to allow children with special educational needs to have access and contribute to lessons.
Equal Opportunities
Ensuring equality of opportunity does not mean that all learners are treated the same. At Beckstone Primary School, in accordance with the Learner's Act 1989, children are considered as individuals with particular needs and potentialities. Each child is given encouragement and the opportunity to develop their full potential in Computing and ICT, with appropriate support provided as necessary, whatever their gender, race, religious belief, cultural background or disability.
Spiritual, Moral, Social and Cultural Development
Within computing lessons children are given the opportunity to work collaboratively and communicate effectively with each other. We encourage children to reflect on evaluate their ability to work together and to discuss how their communication had an effect on their learning. The cultural and social impact of computing and digital technology are made clear in the ability to share, add to and create content in a connected way with others.
Non-negotiable subject specific vocabulary
Foundation Stage
Mouse, keyboard, password, log-in, log-on, monitor, headphones, word processing, insert, clip art, font, re-size, shift, Microsoft Word, user name, Bee Bot, Left, Right, Forwards, Backwards, Drag and Drop.
Year 1
Algorithm, control, coding, Pivot, Scratch, Turtle, Angle, Square, Rectangle, 90°​.
Year 2
Search, Internet, World Wide Web, online, debug, icon, alignment, Triangle, Input, Sequence, passwords, internet safety, messaging.
Year 3
Geometric, computer aided design (CAD), PowerPoint, slides, Selection, Animation.
Year 4
Repetition, loops, software, transitions, Variables, Co-ordinates.
Year 5
Input, output, iteration, simulation, multi-media, digital content, Pixels, GPIO pins, LED, Circuits, Resistor, PIR sensor, PiCamera.
Year 6
Raspberry Pi, HDMI, Excel, column, line, pie, chart, data, random number generation, database.